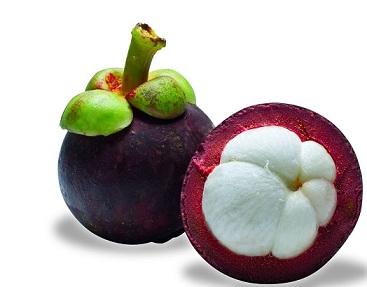 Scientific (Botanical) Name is  Garcinia mangostana
Mangosteen fruit scientifically known as Garcinia mangostana is a tropical evergreen tree, believed to have been originated in Indonesia and is widely available in several South East Asian regions like Singapore, Malaysia, Thailand, and Vietnam and also in some regions of Africa.
The purple Mangosteen, also known as 'Mangustan' in Hindi, 'Ivarumamidi' in Telugu, 'Kaattampi' in Malayalam, 'Kao' in Bengali, 'Murugala Hannu' in Kannada, 'Kokum' in Gujarati, 'Kokam' or 'Ratamba' in Marathi, is acclaimed for its unique appearance and flavor is often revered as queen of the tropical fruits, especially in the orient.
Nutritional Value of Mangosteen. Mangosteen is ahealthy fruit which is rich in water, energy, protein, carbohydrate and fiber. Essential nutrients such as calcium, iron, magnesium, phosphorus, potassium, sodium, zinc, copper and manganese are found in this fruit.
Health Benefits Of Mangosteen
1. Has Anti-cancer Properties
2. Has Anti-inflammatory Properties
3. Skin Care
4. Boosts Immunity
5. Antioxidant Properties
6. Medicinal Use
7. Cures Diarrhea and Dysentery
8. Treats Menstrual Problems
9. Astringent Properties
10. Cardioprotective Effect
11. Controls Diabetes
12. Promotes Weight Loss