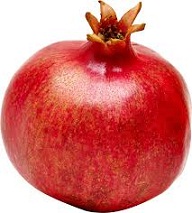 Pomegranate fruit is one of the most popular, nutritionally rich fruit with unique flavor, taste, and heath promoting characteristics. Together with sub-arctic pigmented berries and some tropical exotics such as mango, it too has novel qualities of functional foods, often called as "super fruits."
Pomegranate Health Benefits :
1. May help prevent cancer
2. Help digestion
3. Boost immunity
4. Increase your libido
5. Keep you looking younger
6. Lowers stress levels
7. Keep Alzheimer's at bay
8. Prevent plaque formation
9. Pomegranate juice is heart-healthy
Nutritional In Pomegranate :
1. Energy 83 Kcal
2. Protein 1.67 g
3. Fat 1.17 g
4. Vitamin C 10.2 mg
5. Calcium 10 mg
Preparation and serving method :
1. Pomogranate seeds make an attractive garnish on salads and dishes.
2. Fresh fruits make fantastic refreshing juice.
3. Pomegranate juice can be employed to prepare soups, jellies, sorbets, sauces as well as to flavor cakes, baked apples and other desserts.v
4. It is used in the preparation of traditional Persian recipes such as fesenjan, made from pomegranate juice and ground walnuts rice pilaf, and delicious ash-e-anar soup.
For Pomogranate details in Hindi check here – Pomegranate In hindi