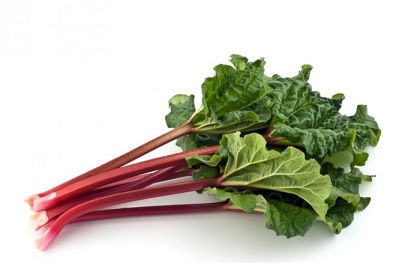 Scientific (Botanical) Name is  Rheum rhabarbarum
Rhubarb (Rheum rhabarbarum) is a species of plant in the family Polygonaceae. It is a herbaceous perennial growing from short, thick rhizomes. It produces large poisonous leaves that are somewhat triangular, with long fleshy edible stalks and small flowers grouped in large compound leafy greenish-white to rose-red inflorescences. In culinary use, fresh raw leaf stalks (petioles) are crisp (similar to celery) with a strong, tart taste.
Although rhubarb is not a true fruit, in the kitchen it is usually prepared as if it were.[1] Most commonly, the stalks are cooked with sugar and used in pies, crumbles and other desserts. A number of varieties have been domesticated for human consumption, most of which are recognised as Rheum x hybridum by the Royal Horticultural Society.
Rhubarb is packed with minerals, vitamins, organic compounds, and other nutrients that make it ideal for keeping our bodies healthy. Some of these precious components are dietary fiber, protein, vitamin C, vitamin K, B complex vitamins, calcium, potassium, manganese, and magnesium.
Health Benefits Of Rhubarb
1. Promotes Weight Loss
2. Treats Cardiovascular Diseases
3. Aids Digestion
4. Prevents Alzheimer's
5. Improves Bone Health
6. Prevents Cancer
7. Improves Blood Circulation