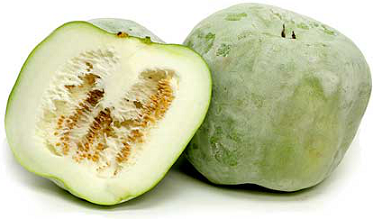 Often green in color with chalky white wax; fruits can be ovoid or ellipsoid in shape. Winter melon is about 25 – 40 cm in length and weighs upto 30 pounds. The fruit has got thin skin along with juicy and sweet interior flesh which is usually white with flat, ovate – elliptic, ridged and yellowish brown seeds.
Ash Gourd, winter melon Health Benefits:
1. Eliminates free radicals
2. Prevents flu and cold
3. Reduce the chances of stroke
4. Prevents migraines
5. Eye health
6. Maintains energy levels
7. Maintains the cognitive function
8. Heart health
9. Digestive health
Nutritional in Ash Gourd, winter melon :
Serving Size: 1 cup
1. Energy 71 kJ
2. Protein 0.53 g
3. Fat 0.26 g
4. Vitamin B6 0.046 mg
5. Vitamin B3 0.528 mg
6. Vitamin C 17.2 mg
Precautions :
Winter melon should be consumed in lower amount as it may result in indigestion due to the presence of high proteins. Mint leaves, jeera, cloves, dry ginger could be used as an antidote for the side effects of Winter melon. The consumption of Winter melon should be avoided by the pregnant women during the initial months.
For Ash Gourd (winter melon) details in Hindi check here – Ash Gourd (winter melon) In Hindi