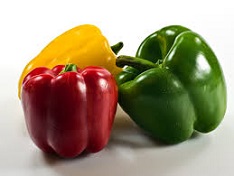 Bell pepper, also known as sweet pepper, is one of the most commonly employed chili peppers in the Capsicum annuum family. Sweet peppers are fruit pods on the capsicum plant grown for their subtle hotness yet sweet, delicate peppery flavor they extend to the recipes
Capsicum / Bell Pepper Health Benefits :
1. Good for Eyes
2. Burns more Calories
3. Anti-Cancer Benefits
4. Cardiovascular Benefits
5. Supports the Immune System
6. Great source of Vitamin B6 and Magnesium
7. Cures Iron Deficiency
8. Benefits of Capsaicin
Nutritional in Capsicum / Bell Pepper :
1. Energy 31 Kcal
2. Protein 0.99 g
3. Fat 0.30 g
4. Vitamin A 3131 IU
5. Vitamin C 127.7 mg
6. Calcium 7 mg
Preparation and serving methods :
1. Fresh raw bell peppers are being used as vegetables in cuisines. They can be eaten raw in salads or cooked in stir-fries.
2. They can also be stuffed with rice, meat, cheddar cheese, dried fruits, nuts, etc., and, then cooked/roasted.
3. They can also be grilled and served with sauce, cheese, and olive oil or with dips.
4. Finely chopped sweet peppers can be used in Chinese-style vegetable stir-fries, and noodles.
5. Sweet peppers are one of the popular ingredients in Italian pizza and pasta.
For Capsicum (Bell Pepper) details in Hindi check here – Capsicum (Bell Pepper) In Hindi