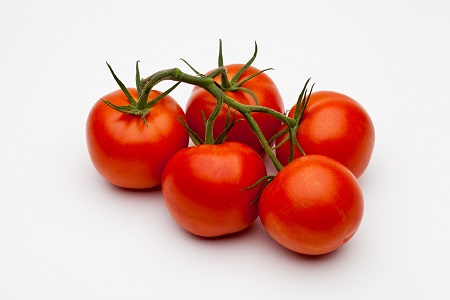 Tomato, a pulpy nutritious fruit commonly eaten as a vegetable, is another wonderful gift of the Mayans to the world. This humble vegetable of Central America has seized the attention of millions of health seekers for its incredible phyto-chemical properties.
Tomato Health Benefits :
1. REDUCE HEART DISEASE
2. VITAMIN AND MINERAL RICH
3. TOMATOES CAN REDUCE DAMAGE BY SMOKING INCLUDING SECOND HAND SMOKE
4. THEY NATURALLY ENHANCE FLAVOR
5. DENSE IN PHYTONUTRIENTS
6. ORGANIC TOMATOES ARE KING
7. IMPROVES DIGESTION AND PREVENTS CONSTIPATION
8. REDUCES DANGERS OF STATIN DRUGS
Nutritional in Tomato :
1. Energy 18 Kcal
2. Protein 0.9 g
3. Fat 0.2 g
4. Vitamin A 833 IU
5. Vitamin C 13 mg
6. Calcium 10 mg
Preparation and serving methods :
1. Tomatoes employed generously in the cooking especially in Mediterranean, Greek, Italian, Southeast Asian, and East European cuisines.
2. Raw ones have extra acidic taste, but when mixed with other ingredients while cooking gives wonderful flavor and rich taste.
3. All kinds of tomatoes, including cherry, are one of commonly featured ingredients in salad preparations worldwide.
4. Fresh tomato juice and soup are popular health-drinks served as appetizers. Organic varieties hold three times more lycopene than non-organic fruits.
For Tomato details in Hindi check here – Tomato In Hindi